The Best Lemon Bars You Will Ever Eat
PBShakes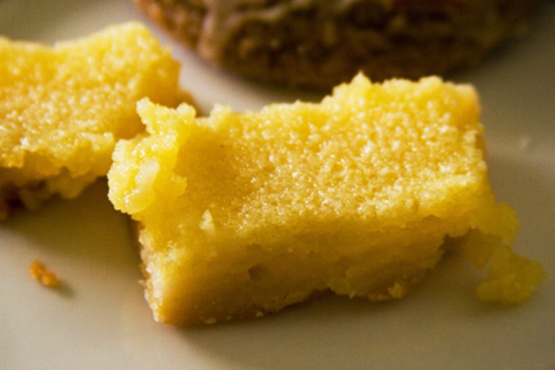 This recipe comes from a friend of my mom. My fiance and I credit this recipe for getting us into our current home-I bribed my landlord with a batch when we turned in the rent application!! No one I know has ever tasted better lemon bars.

Very yummy! I followed the directions as written and did not find them hard to make, the crust reminded me of pie crust and I may try it in the food processor next time (and there will be a next time). The parchment paper sling really helped to cut the bars while they were still hot (then I just slung them back in the pan after they were cut but more carefully as I had cut some of the parchment paper, too). I cut them into 32 bars and it was a good size for us. Definitely going in my keeper book.
Crust:.
Mix 2 cups flour and powdered sugar. Cut in the butter then use your hands to knead it into a moist ball. Line a 9x13 pan with parchment paper and brush with melted butter. Pat the dough into an even layer at the bottom of the prepped pan. Bake at 350 for 20-25 minutes.
While crust is baking mix: eggs, granulated sugar, remaining flour, lemon juice and salt.
Pour over baked crust. Bake for 20 min more. If it's still a little loose in the middle turn off the oven, open the door for one minute to allow heat to escape then close it and leave in cooling oven for another 5-10 minutes until it has set.
Remove from oven. Using the parchment as a sling carefully move uncut bar to a cutting surface. Cut immediately into squares with a long sharp knife (run knife under hot water before and between cuts) and sprinkle with sifted powdered sugar (optional). Allow to cool.