-Sylvie-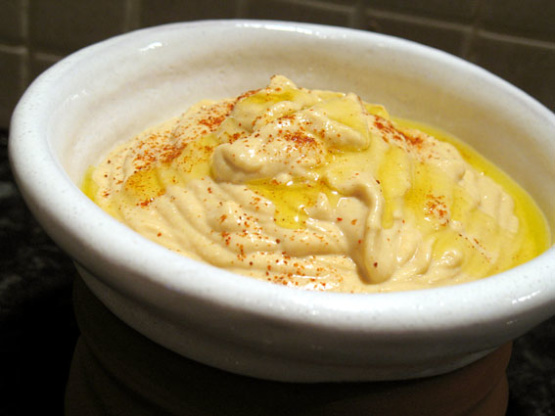 adapted from Joy of Cooking. I recommend stonehouse farm olive oil (http://www.stonehouseoliveoil.com) -- it makes all the difference.

I'm always looking for different hummus recipes, because I love the stuff. This recipe is a little too lemony for my taste. I'd reduce the amount of lemon juice by about half next time. To mask the strong lemon taste a little I added 1/2 tsp of sambal oelek and a dash of cumin, as well as paprika. Thanks for sharing. :D
Combine chickpeas, lemon juice, garlic and tahini in blender or food processor and blend until smooth. Add water as necessary (I like mine thick and fluffy, so I minimize the water).
If not serving immediately, add paprika. Add olive oil through feeding tube while running food processor (or add to blender and blend). If serving immediately, put hummus in serving bowl with olive oil and paprika on top.
For even better hummus, cook 3/4 cup of chickpeas instead of using canned, and use some cooking liquid instead of the water.