Maito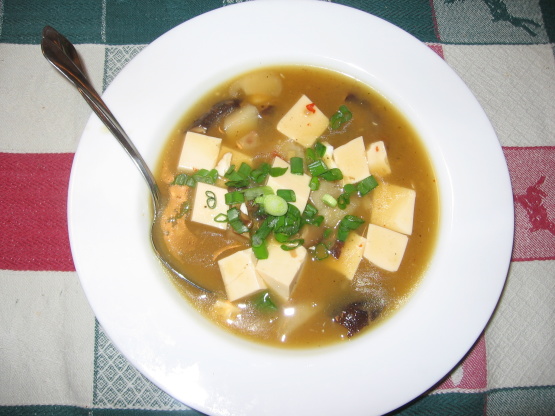 I love hot & sour soup and have spent a lot of time perfecting it. This is the absolute best! You can adjust the chile paste to make it as spicy as you like.

I also have experimented with a number of recipes. This one is tops. But NO hot & sour is complete without a teaspoon or two of sesame oil toward the end. You can use 3-4 fresh mushrooms instead of dried and chicken instead of pork. The recipe calls for "pepper"-- I used white pepper. Cube the tofu. Don't cut in strips. Holds up better. If you're going to serve the dish later, hold off on the egg and onions until you're ready reheat and serve.
Reconstitute mushrooms in water according to package directions.
Heat oil in wok or large pot.
Add ginger, chile paste and pork, cook for about two minute.
Add bamboo shoots, water chestnuts and mushrooms, cook for 1 minute.
In a bowl, combine vinegar, soy sauce, salt, pepper and sugar and
pour into wok.
Add chicken stock, bring to a boil and simmer for 10 minute.
Add tofu and cook another 3-5 minute.
Mix cornstarch and water and add to soup and cook until thickened.
Stir soup in one direction to get current going then add beaten egg,
it will look feathery.
Garnish soup with green onion and serve.