3 Reviews
This is my new go to spaghetti sauce recipe regardless if I cook it in the crockpot or on the stove. By far the best recipe I have found. Thanks for sharing.
This recipe is a lot like my spaghetti sauce I do, but I add in also Italian Seasoning, celery leafy part too, mushrooms, spicy sausage, little Season All Salt, and a can or 2 tomato sauce. Making this tonight. ;)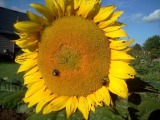 The Best Homemade Spaghetti Sauce Ever. Period.