The Best Homemade Spaghetti Sauce Ever. Period.

When I found my Taste of Home magazine in my mailbox, I was excited to try this slow cooker recipe for "Stamp of Approval Spaghetti Sauce" Orginally submitted by Melissa Taylor of Higley AZ. This sauce is the best stuff I have ever tasted- there is no comparison in taste between store bought and this! Everyone that I made it for, my hubby, son, sister, mom and dad loved it and I (shamefully) ate 2 bowls full of plain sauce before serving! Just try it. Notice- It makes a BIG crock pot full of sauce!
Directions
In a Dutch oven. cook the beef, sausage, onions and garlic over medium heat until meat is no longer pink; drain.
Transfer to a 5-qt slow cooker.
Stir in the tomatoes, tomato paste, water, sugar, Worcestershire sauce, oil and seasonings.
Cover and cook on low for 8 hours or until bubbly.
Discard bay leaves.
Serve with Spaghetti.
Reviews
Most Helpful
This is my new go to spaghetti sauce recipe regardless if I cook it in the crockpot or on the stove. By far the best recipe I have found. Thanks for sharing.
This recipe is a lot like my spaghetti sauce I do, but I add in also Italian Seasoning, celery leafy part too, mushrooms, spicy sausage, little Season All Salt, and a can or 2 tomato sauce. Making this tonight. ;)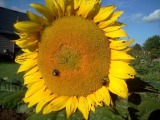 Cant wait to try! Thanks for posting!