The Best Grilled Steak Ever!
LifeIsGood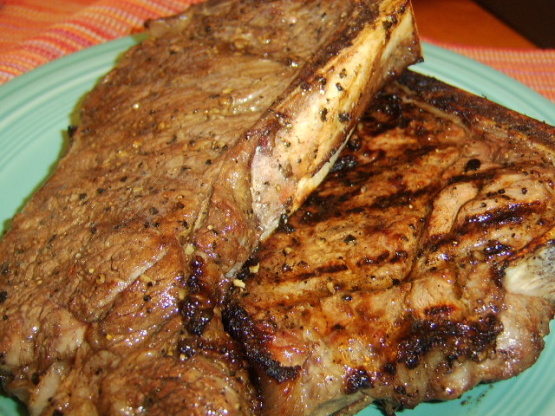 I have tried about 20 grilled steak recipes here, and none beat my old tried and true recipe. It is the result of years of experimentation, and is the best. I tried another Zaar recipe tonight, and I have decided to try and post mine here. Some of the ingredients are regional spices, so I'm not sure if I can post it, but I will do the best I can. This is absolutely the best grilled steak I have ever eaten! Please note: this is best made on a charcoal grill, gas is okay, but charcoal is best!! If you really want a smokey flavor, add hickory chips and cover the grill during the last few minutes!

The flavor of this steak was fantastic. I could not find the Southern Flavor charbroil seasoning so used Montreal Steak Seasoning, but the flavors were still great. We cooked in the dark so they got a little charred, but still cooked to our liking. Very moist and tender steak. Thanks for sharing. I plan to order the Southern flavor charbroil seasoning for out next cookout. UPDATE: I finally got the Southern flavor charbroil seasoning and it was just wonderful. The steak had an excellent flavor with that addition. Thanks for sharing.
2

(14 -16 ounce) rib eye steaks (about 1-inch thick) or 2 (14 -16 ounce) filet mignon steaks (about 1-inch thick) or 2 (14 -16 ounce) porterhouse steaks (about 1-inch thick) or 2 (14 -16 ounce) beef t-bone steaks (about 1-inch thick)

1

garlic clove, minced

1

tablespoon balsamic vinegar
1⁄2 tablespoon extra virgin olive oil
1⁄2 tablespoon all purpose Greek seasoning, no salt included, I recommend Cavendars
1⁄3 tablespoon southern flavor charbroil seasoning, available from www.southernflavor.com (I am not affiliated with them in any way...I have just not found a better product!)
Mix the balsamic vinegar, olive oil, greek seasoning, and southern flavoring together.
Place steaks in a shallow pan. Pour above mixture over the steaks. Turn to coat. Leave on the counter at room temperature. This is very important. It allows your meat to relax and absorb the marinade. This makes for the most tender and juicy of steaks!
Place desired amount of charcoal in the bottom section of your grill. Squirt some lighter fluid on it. Light your charcoal after waiting a couple of minutes. Let the coals reach a medium high temp -- this should take about 20-25 minutes. Spread your coals evenly. This recipe is best on a charcoal grill, but you can use gas.
Place the steaks on the grill. Cook about 4 minutes on each side. Cook according to your preferences -- medium, medium-rare, well done, etc.
4 minutes on each side should produce a medium or medium-rare steak at 1 to 1 1/2 inches thick.