I am always looking for a good granola bar recipe. I have tried so many other recipes, but none of them even come close to being as good as this one. These are so easy to make, and they are great for lunches or just for a snack. One word of caution.....the more you add to the recipe (ex more nuts), the more likely it is to crumble. These bars freeze really well. Hope you enjoy!
Directions
Melt butter in microwave. Add butter to brown sugar, peanut butter, corn syrup, vanilla and mix with a mixer. Add wet ingredients to dry, and stir until completely mixed. Pat mixture into a 8x11 pan.
Bake at 325°F for 20 minute
Let bars cool completely before cutting.
Most Helpful
I have tweaked this recipe in several ways. One way is to replace the butter with grape seed oil. This tastes the same to me and I've had people ask me if there was butter in the mix. The second major thing I do here is to put this mix into a muffin tin. Why do I want to divide it later and have crumbs all over the place? This works really well and the 'pucks' come out easy when the pan is still warm - I drop it on the counter. The last thing I am doing is increaing the good stuff and eliminating the bad. I substitute maple syrup for corn syrup and add in some ground flax seed. This bar has a lot of fat content. I'm going to try some protein powder in this next. But I have to tell you everyone loves this. The bar tastes like a cookie.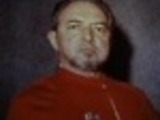 DELICIOUS! I made a few small changes (used maple syrup instead of corn syrup, used 1/4 cup of brown sugar and 1/2 cup of splenda, and added ground flax) and it tasted WONDERFUL! The only problem is that it's so sticky that you'll need to refrigerate it after cooking to get it solid. I can't serve it like a real granola bar because of the gooey/ stickiness... so I put it in containers and serve it with a spoon. It tastes so good! Too good to be healthy!
This is absolutely wonderful. I made it as a breakfast bar, and it is working out for that very well. Packed with protein, I didn't even need to eat anything else with it. I made it with all-organic ingredients. I didn't have coconut or chocolate chips so I tripled the nuts and replaced the corn syrup with maple syrup, and traded out the granola I didn't have for oats. I imagine it would have tasted better if had the coconut and chocolate chips, but It still worked just fine. It was not too crumbly, which is probably because organic peanut butter is VERY sticky and so works better for this recipe I think. I like it very much. Thanks for sharing.