The Best Garlic Shrimp in the Whole Wide World
Bayhill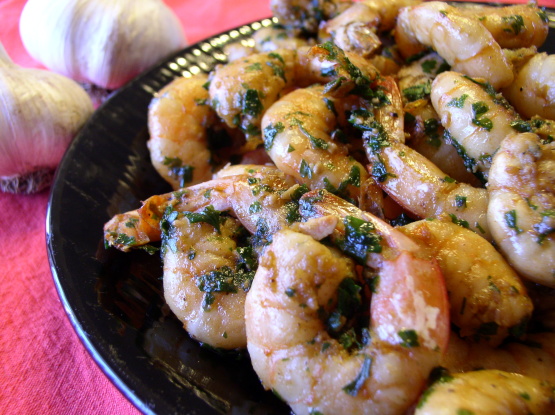 Yes, almost the same as my other recipe but 100% better! A little change went a long way. It is the best, I promise! I have NEVER in my life had better shrimp. My whole family was in heaven. OK, enough tooting my own horn!

cooking shrimp for 10 minutes...lol. Even funnier, the recipe is followed by a "next up video": how not to overcook shrimp. Best results will be with gulf shrimp. I get them fresh here in NOLA. Sauteeing the shells first in olive oil with garlic and chilis will yield a more flavorful dish. Once the shells have turned pink and crisp, scoop them into a strainer and let the excess oil drain back into the pan. Proceed with the recipe.
In a large Ziplock freezer bag, mix everything except the butter and swish it around good to coat all of the shrimp. Or, mix everything in a large bowl and cover TIGHTLY with Saran wrap.
Refrigerate for 1 hour.
Preheat large heavy bottom pan with the butter in it on medium. Toss shrimp around for about 10 minutes until pink and lightly browned.
TIPS: Do not substitute with garlic powder OR dried parsley! Sea salt is stronger than table salt so use less than normal. Table salt can be substituted.
Serve with steak or pasta with a white sauce.
I KNOW THIS IS VERY SIMILAR TO MY OTHER SHRIMP RECIPE, BUT I MADE IT THIS WAY TONIGHT AND IT WAS SO UNBELIEVABLE THAT I HAD TO POST IT! EVEN BETTER THAN MY OTHER SHRIMP RECIPE!