The Best Friends Granola Bars
CoffeeB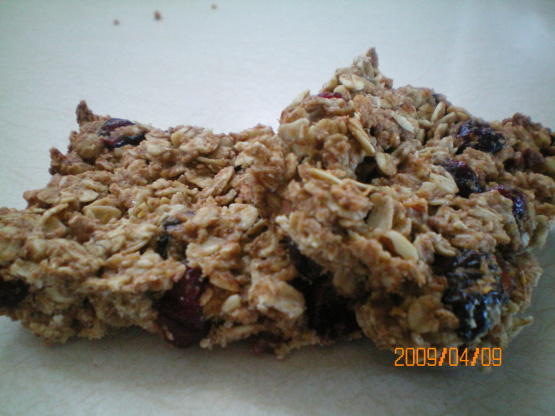 I am a cross country runner and i'm always looking for a good snack to eat after my workout to restore what i have lot in my work out soooo thanks to my best friends Allison and Brianne they shared this recipe with me :) It's great really for an anytime snack and you don't feel like you are feeding your body junk because it certainly is not junk. This is one of those recipes that does follow the jingle, "delicious and nutritious" and a lot nutritious!

Top Review by jean10
This is the best recipe for quick delicious muesli bars. I make these often as a quick breakfast substitute for those 'on the run'. There are endless ways to vary the recipe - changing the mixture of nuts or dried fruit, adding different essences such as pure orange essence, or a bit of cocoa. I have found that cutting them up when cooled and then rebaking briefly to crisp the edges, gives them a more biscuit like texture and means that they last longer - ( if they do not get eaten first). Thank you for whoever shared this wonderful recipe first.
preheat oven to 350 degrees and cover a 13x9in. glass pan with non-stick spray
mix all dry ingredients in a large bowl.
mix all wet ingredients in a separate bowl.
after they are both thoroughly mixed add the wet ingredients to the dry ingredients.
pour into the glass pan and bake for 25-30 minutes.
let cool for about 2-3 minutes.
the mixture will still be very hot, but drizzle honey all over the mix (this keeps
them very moist).
let cool for another 5 minutes and cut the bars with caution and awareness that the pan will still be a little hot.
eat to your hearts content!