SueVM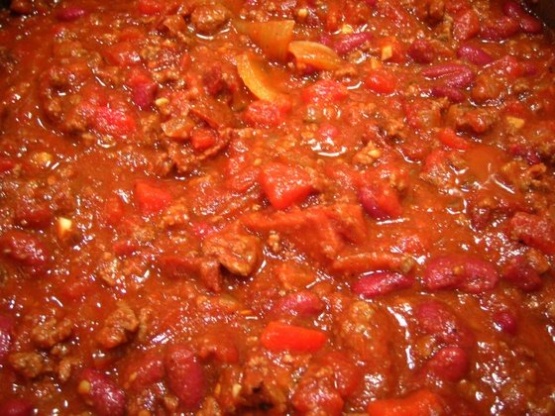 A friend gave this recipe to me and she got it off the internet as it was very similar to her husband's chile who happens to be a fire man. Refrigerate over night in pot before eating. Not essential, but I think it tastes better, as all of the ingredients blend and meld together nicely.
In a skillet, brown the ground meat, remove and drain well. In the same pan fry the onions, garlic, and peppers, until the onions are translucent and peppers begin to wilt.
In a large stew pot or Dutch oven, add meat and vegetables and stir over low heat.
Add spices and seasonings, stir.
Add crushed tomatoes.
Add kidney beans that have been drained and rinsed.
Add beer, stir.
Add water or stock (if needed) until desired consistency is reached.
Bring to a boil, reduce heat to low.
Simmer for approximately 1 ½ - 2 hours, stirring every so often.
Serve over rice with a dollop of sour cream and shredded cheese.