The Best, Fastest Whole Wheat Bread- That the Kids Will Love Too
lisar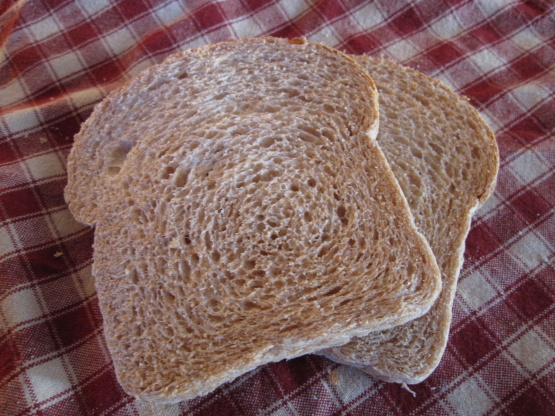 There are many perks working at the local extension office and one of them for sure is the food. One of my favorite recipes is for this delicious whole wheat bread. It is soft and light (just like white bread) and is fast to make compared to some yeast breads due to the instant yeast. Great recipe to get those kids to love whole wheat bread. I had posted a previous version of this recipe (#326380) but we have since added some additional ingredients to make it even better- an egg, some powdered milk and lecithin. Lecithin is easily found in any health food store- really helps with that soft texture I am talking about.

Love this bread!! Made a sandwich with it the first time I made it and had to check the bag to make sure I hadn't used the "store" bread by mistake. I used lecithin granules as that is what I have-even used the wrong conversion amounts the first time and it was still great. Used lime juice the first time too, as that is what I had-no noticeable difference. Just made 10 more loaves to give to family-using all the correct amounts/ingredients-AWESOME!!! I have 9x5 bread pans, so I only get 2 nice fat loaves. I love also that there is only one rise time-try this -you won't be sorry.
Add ingredients in the order listed to bowl of Kitchen Aid or other heavy duty mixer.
Using a dough hook, mix well and add more flour if needed so that the dough cleans the sides of the bowl (dough should be slightly tacky).
Knead for 10 minutes.
Shape into 3 loaves. Add dough to sprayed loaf pans.
Cover with tented plastic or cloth and let rise for about 1 hour.
Preheat oven to 400 for the last half hour of rising. It is ready to go in the oven when the dough has risen just above the top of pan.
Turn oven down to 350 and bake for 25 to 30 minutes.