Parsley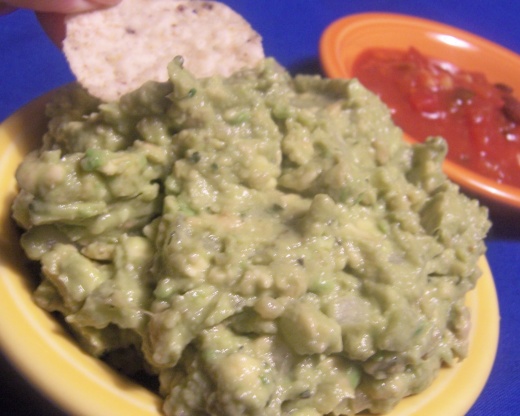 I found this recipe in an old James Beard cookbook over 25 years ago. People beg me to make it. It's simple and easy and...addictive! Make this appetizer right before serving. To preserve any leftover guac, store it in a container with a minimum of surface area exposed. Smooth out the top of the guac and put plastic wrap directly onto it to minimize oxidation (the browning of the guac). Seal the container tightly.

Top Review by Maxxr
This is a delicious guacamole that lets the avo. flavour predominate. Only negative is that 1 tsp. of salt was too much for us even though we are salt fiends. Also, I would use regular salt in this instance as the kosher was too grainy for this recipe and the regular would have dissipated through the entire quantity. I also added a touch of chipotle for heat and extra flavour.
Mince the garlic (add more or less to taste).
Dice the onion (ditto).
Cut avocado in half and twist to separate. Stab the pit with the long sharp edge of your knife: twist it, and the pit will come right out attached to the knife.
With a spoon, scoop out contents into a glass bowl.
Add the garlic and onion.
Using two knives cross-cut the mixture until it is in smaller chunks, then mash with a fork.
Squeeze in 1/2 the lime, white pepper and salt. Taste. Add more salt and/or lime as needed.
I don't care for a lot of additions, but cilantro is one I like. Avocados are too subtle, so adding too many other ingredients obscures its wonderful, nutty flavor.
Also consider black olives, tomatoes (de-seeded and diced) or jalapenos.
Serve with chips and home-made salsa, or add to any sw or Mexican dish.