The Best Ever Gooey Butter Cookies
alligirl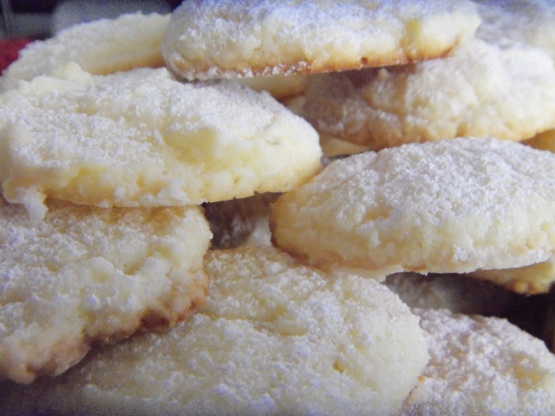 I like this recipe because you make the dough one day and bake the next. After you frig it over night the dough is easier to work with. I got this recipe from my sister, she's the one that told me to frig the dough overnight.

Sure did appreciate the ease of this cookie. Made them before bed, and baked before I put DS on the bus. That works! :) I made these for DS's school party, and had to promise to send the recipe to 3 of the moms...LOL I softened my butter, instead of melting and I honestly forgot to roll them in sugar before baking, but they were just fine with the dusting I gave them, while cooling. Mine varied in size, and I should have put the dough back in the fridge, between batches, as they spread more when they're warm to start. My yield was 56 cookies, which I thought was great! Going in my 'Kids' AND 'Keeper' files! Thanks for sharing a quick and easy recipe, Coffee lover!
Mix the butter ( I melt it in the microwave) and cream cheese ( I mix by hand with a wooden spoon, but any spoon would work).
Add vanilla and the egg mix together.
Add the Butter flavor cake mix.
Put in the frig overnight.
The next day.
Preheat oven to 350.
Spray cookie sheet very lightly ( if you use parchment paper don't spray cookie sheet, I prefer the parchment paper).
Roll dough into balls (about the size of a walnut), roll into powdered sugar.
Put onto cookie sheet ( I put them 3 in a roll and space out, and only have 4 rolls).
Bake 10 to 12 minutes.
Remove from oven, sprinkle with powdered sugar.
Let stand on cookie sheet for a few minutes.
Then remove and let cool.