The Best Easy No Cook Lemonade Pie

This is a very easy, no cook recipe and something quick to bring to a social gathering. It is always a hit and you wont be mind boggled when asked for the recipe.
1 (8 ounce) container Cool Whip
1 (12 ounce) can frozen pink lemonade concentrate
1 (5 ounce) can condensed milk
1⁄4 cup reconstituted lemon juice
1 9-inch graham cracker crust (you can make this on your own, i just buy the ones already made at the store such as Keebler.)
Directions
Mix all ingredients in a bowl with a hand mixer.
Pour into 9" graham cracker crust.
Chill 1-2 hours and top with whipped cream when serving!
ENJOY!
Most Helpful
This pie did not turn out for me. Based on previous reviews, I have decided the failure is my fault. The flavor was good but I must have measured something wrong. The pie was like soup instead of firm like a pie. I will make this again soon so I can post a positive review. Could the problem have been the can of milk was warm? I will try again. Make for PAC, fall 2008

My mom has made a variation of this for years, but the added lemon juice puts this over the top! No baking to heat up the kitchen makes this the top favorite for summer! Thanks for posting!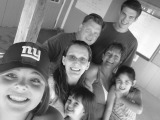 Awesome and easy...I made it today, had to fight to get to taste it...DH took it to the neighbors to share....and they sent back $ for ingredients for more....darned good recommendation I think....