The Best Easter Chocolate Brownies Ever!
Um Safia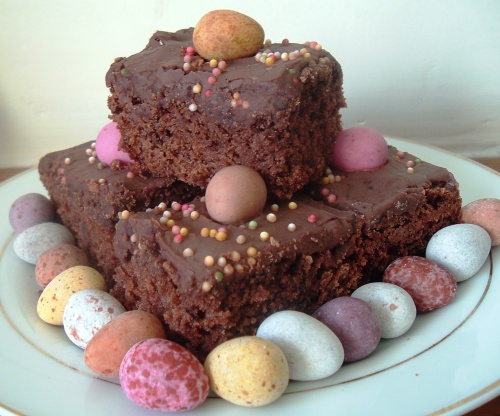 This is our family recipe for chocolate brownies that we make for Easter. They never hang around long so I try to make at least 2 batches at a time! These are incredibly easy to make - the kids can make them without any fuss!

These brownies were very nice... and very easy to make, which I appreciated! The batter is incredibly thick and sticky, but it worked out beautifully. The tin foil in the pan is SUPER ~ makes cleanup a snap. I wanted them to be chewier and softer so I didn't keep them in the whole 40 minutes, more like 30 or 32 minutes (depending on your oven as well). I also substituted chocolate mint chips instead of the walnuts for a bit of zing, and they were lovely, really chocolatey! My husband and I devoured these. Next time, I think I'm going to try using Splenda instead of sugar (my brother is diabetic and loves brownies, so he'll appreciate that). Thank you for submitting, I'll be making these again!
Melt the margarine in a large heatproof bowl in the microwave.
Add the sugar, cocoa powder and salt. Mix well then beat in the eggs.
Fold in the sifted flour, baking powder & finally the walnuts if you're using them.
Pour into a dish (approx 9x13) lined with greased tin foil and bake in a preheated oven at 180°C / 350F for 30-40 minutes (depend on how gooey you like them!).
Allow to cool completely before icing.
To make the icing, sift the icing sugar and cocoa powder into a bowl. Carefully add a little water at a time until you have a nice thick icing.
Carefully spoon over the brownie and spread out evenly using a pallet knife. Allow the icing to set for a few minutes before adding the sprinkles (so they don't absorb moisture and leach out).
Score into approx 2" squares using a sharp knife and place a chocolate mini egg in the centre of each square.
When the icing has set you can then cut the brownie into the squares.
Store in an airtight container.