The Best Cucumber Salad!!
iris5555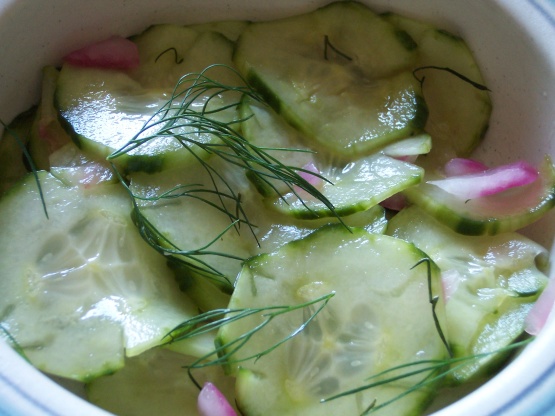 A Southern staple. This is ALWAYS requested by those who have had it during cook out season. Fast easy and cheap!
Thinly slice cucumbers. I use a mandoline for perfect thin cuts.
Place cucumber in a large bowl adding salt through out the cucumbers.
Place a plate over the cucumbers as to add weight ( i usually put my olive oil can on top of the plate for added pressure). This step is to withdraw as much extra water as possible. Cover for 1 hours.
Mix vinegars, sugar and dill, taste, making adjustments for that tangy taste.
Empty excess water from cucumbers and add shallots and vinegar dressing.
Ideally let sit for another hour, but its hard to resist for that long.