The Best Cookie Dough Brownies
HisPixie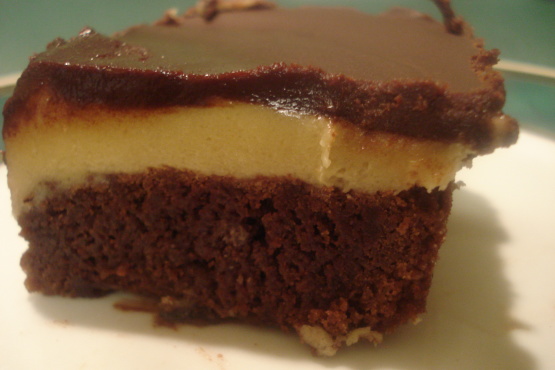 I was given this recipe by a friend many years ago and though I've seen other variations of this recipe, none have topped this one. I haven't met a person yet who is able to resist these. They are best eaten warm with a cold glass of milk. :-) Enjoy!

I used my own brownie recipe but the topping and concept is so sinfully good!
Preheat oven to 350°.
Grease a 9 x 13 pan.
Mix together sugar, flour, cocoa and salt.
Add oil and mix well.
Add eggs one at a time mixing well after each addition.
Add vanilla (again, be generous with the vanilla, extra vanilla almost always improves the flavor:-)).
Bake for 30 minutes or until toothpick comes out clean (I like my brownies a little gooey).
Allow to cool while you prepare the filling.
Cream butter and sugars until smooth.
Add milk and vanilla.
Add flour 1/2 cup at a time and mix well.
Smooth on top of brownies.
Finally, in a double broiler, melt baking chocolate and Crisco until smooth and runny. Drizzle over top of the cookie dough filling on the brownies, making sure that the entire top is coated with chocolate.
Allow it to set until chocolate is firm (it's hard to cut with the chocolate still runny, though I know it will be hard to resist eating right then and there. If you are in a hurry you can stick it in the refrigerator (or place it outside on your porch if it is cold outside like it always was in AK where I made them. :-)).