The Best Cauliflower Soup Ever
Parsley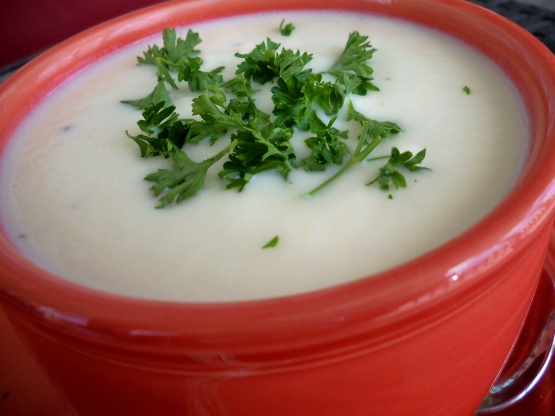 I never ate Cauliflower, it was one of those veg that your mum had bribe you into eating as a child! So last week I went out for a pre-theatre meal and guess what the first set menu had on it Cauliflower soup! so ordered it and was shocked to discover this soup was delicious and tasty, so decided to try it out at home with my own touches thrown in! Tip - if you want a bit more spice leave out nutmeg and add 1 Tbsp of curry power after cooking the onion for 1 min! enjoy!

Oh I am such a bad cook and rarely have ingredients for anything. But I had a craving for cauliflower soup. I found this one and it was simple enough for even me to try. Though I didn't have a potato or any chicken broth. So I threw in some mushroom slices that were starting to try up. Now I also halved the recipe, but mistakenly didn't halve the liquids. The milk I used was almond milk. And of course the 'broth' was a teaspoon of beef crumbles and water. Sigh. But after pureeing and salting and peppering and adding the nutmeg (which scared me, especially since I didn't know what a pinch was) . I did have parsley flakes and I had some shredded fat free Mozzarella cheese so I scattered a bit over the top. And to my extreme surprise, it was tasty!!! Even I, with all my ineptitude and lack of ingredients, had a nice soup. And though I mistakenly didn't halve the liquid, it was a nice consistency. And it sure was low in calories! It'll be my go to soup from now on!
Using a deep saucepan, heat 2 tablespoons of olive oil, add chopped onion cook until soft,but not brown about 5mins.
Add chopped garlic cloves.
Place the cauliflower and chopped potato into the saucepan, followed by chicken stock and milk and bring to the boil.
Cover the soup and simmer for 15-20 minutes, or until the cauliflower is soft.
Puree the mixture, add the nutmeg,.
Season to taste with salt & pepper and add a sprinkling of chopped parsley and grated cheese. Serve it warm with crusty bread.