The Best Caramel Brownies
Pamela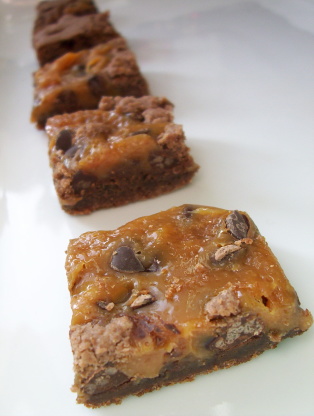 This is an easy recipe to make for those unexpected needs that arise. I always keep the ingredients on hand. Everyone always requests this recipe.

Excellent brownies! My Mom has been making these for years... one thing that makes the whole process easier is using caramel sundae sauce instead of actual caramels. Makes delicious gooey brownies! :)
Mix (by hand) cake mix with 1/4 cup evaporated milk and 1/2 cup melted butter; add nuts if using.
Batter will be stiff.
Press half of batter into bottom of 9 x 13-inch pan. I use wax paper and a small rolling pin to make this process easier.
Bake at 350° for 8 minutes.
Meanwhile, melt caramels with 1/2 cup evaporated milk in microwave or in double boiler.
Remove bottom layer from oven and sprinkle with chocolate chips, then drizzle with caramel.
Top with remaining batter by rubbing batter between fingers and dropping evenly (will not cover completely).
Bake 18- 20 minutes.
Let cool before cutting.