The Best Cajun Blackened Salmon Ever.
gailanng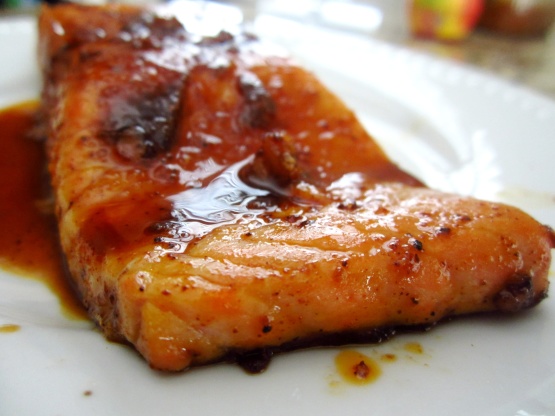 We eat a lot of salmon (at least once a week) and this is by far my favorite way of preparing it. It's really quite simple, and the end result is so delicious. The sweetness of the apple juice/white wine combined with the spiciness of the Cajun seasoning is amazing. The blackened texture of the fish is also great. Not your typical boring salmon!

Easy and everyone should know how to cook a tasty meal, but I have some advice of my own. Let's see what else...everyone needs to know how bone a chicken, read a measuring cup, work the dishwasher, make a grocery list, check in at a Holiday Inn Express... I think I've said enough.
453.59

g salmon fillet
cajun's choice blackening seasoning (or any Cajun blackened seasoning)

118.29

ml apple juice or 118.29 ml a sweet white wine

44.37

ml butter

14.79

ml minced garlic

1

lemon
Melt butter over medium high heat. Stir in 1 to 2 tablespoons (depending on how spicy you like it) of Cajun's Choice Blackened Seasoning and garlic. Stir constantly for 1 minute to blend flavors. Slow the cooking of the butter and the garlic by adding wine. Stir constantly and cook for 1 minute. Add fish fillets and cook until fish flakes apart. Squeeze lemon over fish and serve.