fawn512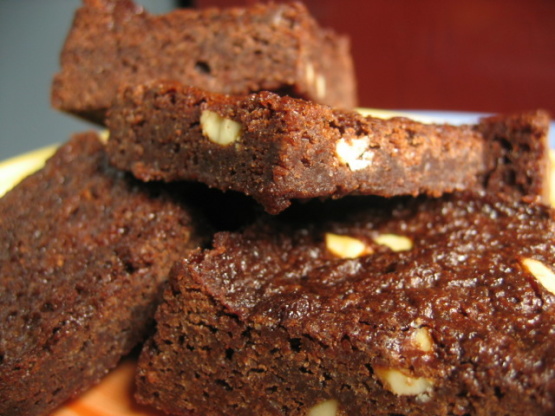 These are the best brownies. Everyone asks for this recipe.

Top Review by J-Lynn
This is a WONDERFUL brownie recipe, my new favorite! The most pleasant surprise was how much they rose- to the top of my pan! Of course they fell quite a bit as they cooled, but they still made a nice thick brownie! I didn't believe that they should be baked at 325, but I wish I had. They're so thick that at 350 the edges almost burned by the time the middle was done. Still delicious!
Preheat oven to 325°F; grease a 9-inch square baking pan.
In a small bowl, combine flour, soda and salt; set aside.
In medium saucepan, combine sugar, butter and water. Bring just to a boil. Remove from heat.
Add 1 cup chocolate chips and vanilla.
Stir until chocolate melts and mixture is smooth.
Add eggs; one at a time, to the mixture; mix well.
Gradually blend in the flour mixture.
Stir in remaining 1 cup chocolate chips and the pecans.
Spread in the prepared pan.
Bake for 30-35 minutes.
Cool completely before cutting into squares.