The Best Bread Machine Challah
Lee Hock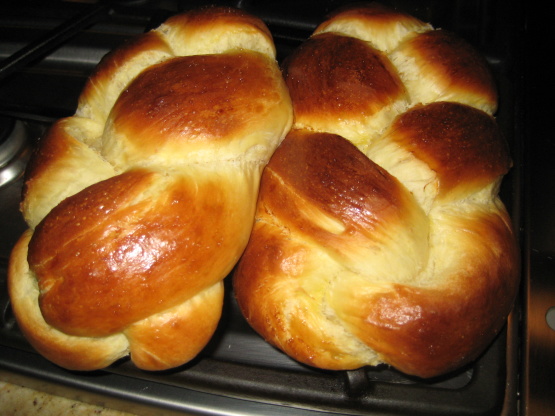 After trying out several different bread machine challah recipes, I have come to find the best one. The challah it produces is so light and the perfect combination of sweet and salty. The bread machine I own is an Oster, nothing fancy. As with all bread machine recipes, I will say every once in a while I will have a flop, no idea why this happens sometimes. This recipe calls for 3 yolks, so I will post a link for something easy to do with the whites: Ultra Moist Easy Chocolate Bundt Cake. Everytime I make challah, I also make this cake.

it never double it size!!!!! Dont know why
3

egg yolks

236.59

ml water

51.76

ml vegetable oil

3.69

ml salt

59.14

ml plus 2 tablespoons sugar, heap the tablespoons

650.62

ml and 1 tablespoon bread flour, heap the tablespoon

7.08

g packet active dry yeast

1

egg, beaten for glazing
Place the ingredients into the bread machine in the above listed order. Make a small well in the flour for the yeast. Put bread machine on dough cycle.
Preheat oven to 350 degrees F.
Remove dough from the machine onto a lightly floured surface. Divide dough into two equal halves. Divide each halve into three pieces, and braid. Place braid onto a cookie sheet covered with a piece of parchment paper. Cover the two braid with a dish towel. Let stand until double in size, about 30 minutes to an hour. Remove dish towel. Use a pastry brush and paint the challahs with beaten egg covering the entire loaf.
Bake at 350 for 25 minutes. Until the bottom sounds hollow when tapped on.
Remove from cookie sheet and let cool on baking rack.