The Best Bread Machine Challah
KOSHER KOOK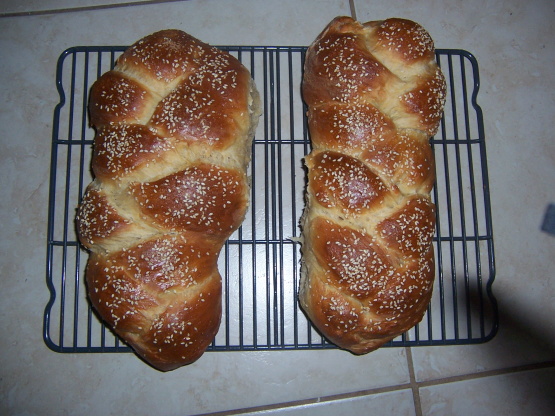 This recipe originally comes from Kosher by Design by Susie Fishbein. I've been making this challah every week for the last two months, and it makes a delicious, rich challah. I don't use the bread machine method, making the dough in my Kenwood mixer and giving the final knead by hand, then braiding the challah and baking it in the oven. I'm posting this as a bread machine recipe at the request of Miraklegirl. BTW, I don't use all the water called for in the recipe, I usually add a bit at a time until I'm happy with the consistency of the dough.

Mirj, must tell you that this has become my go to recipe every Friday. I have made it using brown sugar and I've tried using honey though I do use less sweet than called for in the recipe. I do have to add quite a bit more flour after the cycle is done to make the dough workable. My trick for a beautiful brown challah is to bake for 10 minutes at 375 and then the next 20 min. at 350. Turns out beautiful every time. Last week I made chocolate meringues out of the left over egg whites. They were a hit also.
Place the water, egg yolks, salt oil, flour, sugar and yeast in the bread machine pan, according to the manufacturer's directions.
Process the ingredients in the dough cycle.
Remove immediately when the machine beeps.
Preheat the oven to 350 degrees.
Divide the dough in half.
Divide each piece into three sections.
Roll each section into a long strand.
Braid the three strands, pinching the top and bottom ends together.
Place on a parchment-lined or lightly greased baking sheet.
Repeat with the remaining dough, making the second challah.
Let the challot rise, covered, for 30 minutes.
Brush the challot with the beaten egg.
Sprinkle with the sesame seeds, poppy seeds, or a combination of both.
Bake for 30 minutes.
Cool on a wire rack.