The Best Bourbon Chicken!
stephanie W.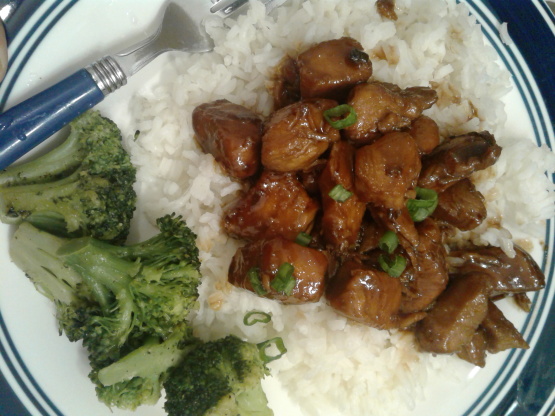 This chicken tastes just like the stuff that the food court guys are trying to get you to sample all the time!! Its really easy to prepare if you can get boneless chicken thighs and make sure that you use a good bourbon! Remember--if you wouldn't drink it, do not cook with it!

Boy are you right on by calling this the BEST Bourbon Chicken! YUMMY! The only thing I changed was to use chicken breast instead of thighs (that's all I had) And a little bit of crushed red pepper and fresh ginger (which by the way keeps in the freezer forever!). I can't wait to make this again next week! Thanks Bryan
Coarsely chop the scallion and mix all but the chicken and peanut oil together in a bowl and whisk until well blended. set aside.
Dice chicken thighs into bite sized pieces and sauté in very hot pan or WOK with the peanut oil until lightly browned on the outside.
Add liquid mixture to the chicken and reduce heat to medium.
Cook this UNCOVERED until liquid is reduced to a glaze on the chicken bites and chicken is fully cooked.
Serve with your choice of side dish. Fried rice or Lo Mein noodles work well.