The Best BBQ Ribs in Arizona!
teresas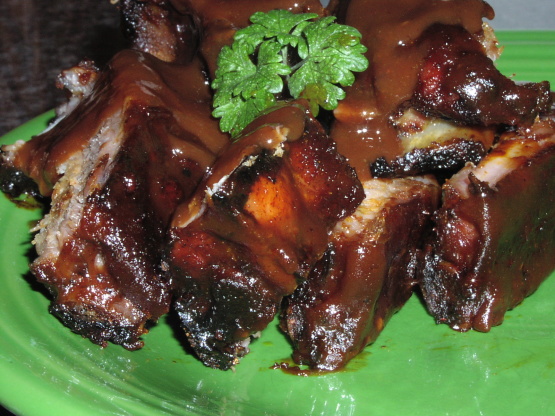 The juiciest, tastiest ribs you will ever have. I haven't made these in a few years, but I am posting this so I don't lose it. I plan on making this for my boyfriend when football season starts. P.S. Great with garlic bread :)

These were very good...but way to salty...even salt loving hubby said they were salty...I would cut back on the salt...otherwise it was delicious...I like that you get to use your favorite bbq sauce...I made a mixture of two that I had on hand...they both were just about empty...one spicy and one mild...the ribs were tender but not falling off the bone...so you got a nice bite of meat without the whole thing coming off at once...I served it with some potato salad and baked beans...yummy...thanks for posting it...=)
Pull off and remove the thin papery skin from the back of the ribs. Combine the paprika, salt, sugar, chili powder, garlic, cumin, mustard, and cayenne in a small bowl. Mix well. Rub the mix all over the ribs. Cover and refrigerate for 4 hours or overnight.
Preheat the oven to 250 degrees F. Place the ribs meat side up in one layer on several sheet pans & bake, turning from time to time, until very tender, approx 3 1/2 to 4 hours. About 30 minutes before the ribs are done, remove them from the oven and brush liberally with the BBQ sauce. Bake the additional 30 minutes and serve with more sauce. Enjoy!