The Best Barbecue Sauce Period
2Bleu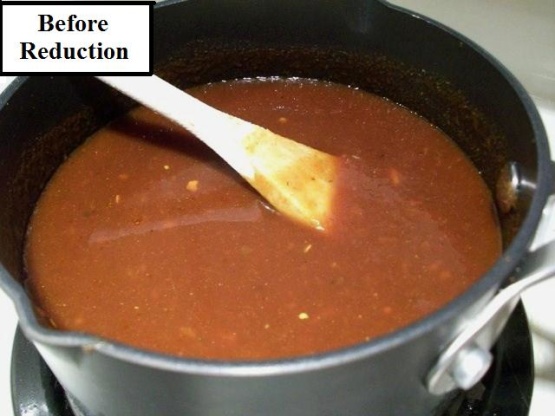 After being disgusted with super-syrupy bottled sauces full of HFCS I set out to create the greatest tomato-based BBQ sauce the world has ever known. Super tangy and full of meat-enhancing (not covering) flavor, this sauce is loved by everyone who tries it. What's great is that by changing amounts of, adding or omitting ingredients, you can make it your own! Don't even think about that terrible liquid smoke! Try some chipotle powder or one or two chipotles in adobo. It will also add some heat. For a Kansas City style sauce, omit the molasses, reduce the vinegar and add some heat like cayenne. Also, if you prefer you can use fresh garlic and onion. This sauce gets better and mellows once it's had a chance to sit a few days in the fridge and it cans well if you're into preserving. It's great as a finishing sauce for beef, pork or chicken, or as a meatloaf glaze. Of course everyone will rave when you serve it on the side or mixed into baked beans. If you omit the Worcestershire sauce (anchovies) this recipe is vegan. This recipe is easily halved.

Lovely homemade BBQ sauce. I love that it's so much cheaper to make. I had Karo syrup and used 1 cup of that instead of molasses, which is harder to come by where I live. Also left out onion powder & paprika, as those got left off the grocery list. :) Still very flavorful. Used for crock pot pulled pork recipe #131018. Thanks for a great recipe!
Mix everything but the salt in a non-reactive pan and heat on medium low until reduced to desired thickness, anywhere from 30 to 90 minutes.
Taste and add salt if needed.