whaleyje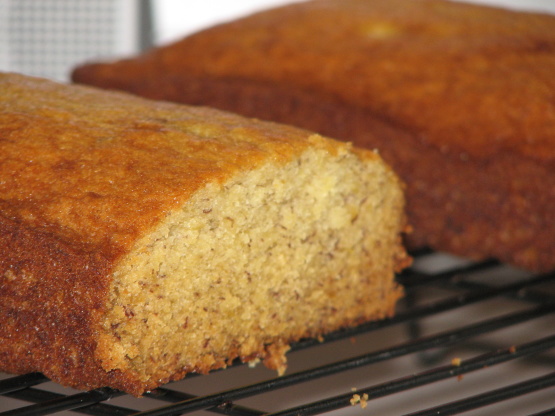 This is one of the recipes I am known for. Super moist and super yummy. I have tried many over the years and always come back to this. I often give it as a gift around the holidays. Just may be the last banana bread recipe you ever try! Can also make 3 mini-loaves

YUM. So moist, excellent flavor. I may just toss my other banana bread recipe. I love how sweet the crust is. I did the buttermilk trick (lemon juice and lowfat milk), and added pecans instead of chocolate chips; I just like that flavor more. I did make 3 mini loaves, but they were done in about 45 minutes. This banana bread is wonderful. Thank you, Tracy!
Cream butter and sugar (by hand or mixer).
Mash bananas and add by hand to creamed mixture.
By hand add eggs, vanilla, baking soda, flour and salt.
Gently stir in buttermilk and chocolate chips.
Pour into a greased loaf pan.
Bake at 350°F for 1 1/4 hour or until it tests done with a toothpick.
**I find that coarsely mashing bananas is best and make sure they are over ripe for best flavor.
I also find that doing the majority of the mixing by hand makes for better texture in the end.
**Even though the recipe says it makes 1 loaf, I usually use 2 loaf pans or 3 mini loaf pans because it seems to yield a moister bread.
Just adjust baking time down.
**if you do not have buttermilk you can put 1 teaspoons vinegar into a 1/2 cup measuring cup and fill to top with milk.
Let rest 5 minutes before adding to recipe.
**This freezes well.