The BEST Baked Potato Soup Ever!
jaunna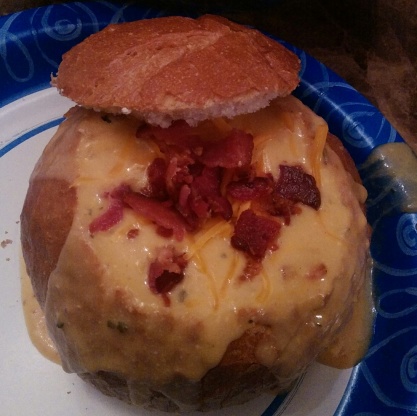 This really is the best baked potato soup I have ever tasted. I've had this recipe for quite a while now and I thought it was time to share with you guys!

All I can say is OMG!! This is the most awesome soup I have ever eaten. I did fry some bacon and use the grease in my roux. I didnt have any thyme, but I did add 1/2 teaspoon garlic powder. I will definately make this again. Thanks Jeanette!
Wash potatoes thoroughly and microwave until tender.
If you would like you can always bake in a 400 degree oven for one hour or until done.
As the potatoes are cooling, melt your butter in a large saucepan and saute your onions until light brown.
Add in your flour to make a roux.
Add in your chicken broth, water, cornstarch, instant mashed potatoes and spices and bring to a boil.
Reduce your heat and simmer for about 5 minutes.
Take your cooled potatoes and peel off the skin and chop up into desired pieces.
Add in your chopped up potatoes and the heavy whipping cream to your soup and bring it back to a boil.
Reduce heat and simmer for about 15 minutes or until it is thick.
Garnish with cheddar cheese, crumbled bacon and green onions.
ENJOY!