The Best Asparagus Lemon Pasta
Lori Mama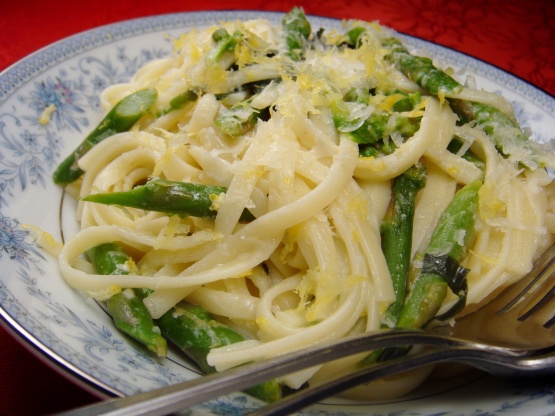 I came across this at Epicurious and fell in love, and its been elsewhere. Years of looking for the lemon pasta I remembered as a child, and finally found it. Tweaked it a little to my own taste, replacing parsley with fresh basil and using linguine. If you don't have tender asparagus, the europes best frozen ones are far better than woody fresh ones. Do NOT substitute lighter creams, it just does not work that well.

Wonderfully delicious - this dish made a lovely dinner and would be perfect for any special occasion! The flavors are really delicious -- loved the lemon and parmesan - added a bit extra of both. Next time, I may add a little twist to this dish by adding a few grilled shrimp on top - YUM! Can't wait to have this dish again! Made for Everyday is a Holiday tag, February, 2012.
Cut the asparagus into 1/2 inch slices on the diagonal, or just into 3 pieces.
In a steamer set over boiling water steam asparagus, covered, until crisp-tender, about 3 minutes.Drain and rinse under cold water to stop cooking. set aside.
In a 6-quart kettle bring 5 quarts salted water to a boil for pasta.
In a deep 12-inch skillet heat butter and cream over moderately low heat until butter is melted and stir in zest, lemon juice, and salt. Remove skillet from heat and keep sauce warm, covered.
Add pasta to boiling water and boil, stirring occasionally, until al dente. Ladle 1/4 cup pasta water into sauce and drain pasta in colander.
Immediately add pasta and asparagus to sauce and cook over moderate heat, tossing, 1 minute, or until heated through. Add basil and salt and pepper to taste and toss well.
Sprinkle pasta with a little Parmesan and serve more Parmesan on the side.