The Best Apple Pie Muffins Ever
Calee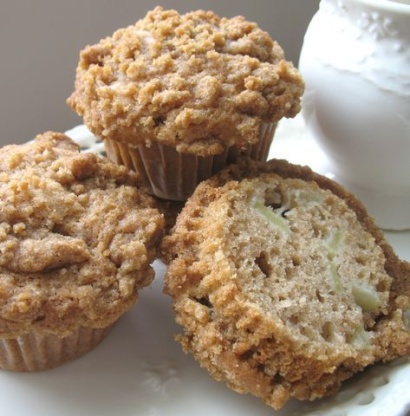 I got this recipe from a friend. I make these often and take them to many potlucks, office parties, the cottage, picnics, children's lunch and the list goes on. Recipe from the cookbook "Just The Best."

Wow!! Those are possibly the best muffins I have ever made (& I bake a lot)! I read through the reviews and altered it slightly..grated the apples, used salted butter (wasn't too salty), split the flour and did 1 1/2 cups of reg. flour and 1 c. whole wheat flour. I also did 1/2 tsp. baking soda and 1/2 tsp. baking powder (instead of all b.soda), added 1/2 tsp. of cinnamon to the muffin mix and 1/4 tsp. of nutmeg. Lastly, I didn't have buttermilk, so did the 1 c. of milk with 1 Tbl. lemon juice method and that worked just fine. Oh, and I doubled the topping! YUM!

My twins (even my picky eater) and hubby gobbled them up and asked for more! This is going to become a regular recipe in my arsenol! Thank you SO much for sharing, Dotty!~ :)
Note:.
cinnamon could be added to the batter ( about 1 teaspoon or less).
Topping: In a small bowl toss together sugar, flour, butter and cinnamon until crumbly; set aside.
Muffins: In a large bowl whisk together brown sugar, oil, egg and vanilla until smooth.
In a separate bowl, sift together flour, soda and salt.
Stir oil mixture into flour mixture alternately with buttermilk.
Fold in apples, mixing just until combined.
Spoon into greased muffin cups filling 3/4 full.
Sprinkle topping over evenly.
Bake at 350°F for 25-30 minutes or until golden brown and tops spring back.