The Best and Richest Pound Cake from a Mix
bakeroo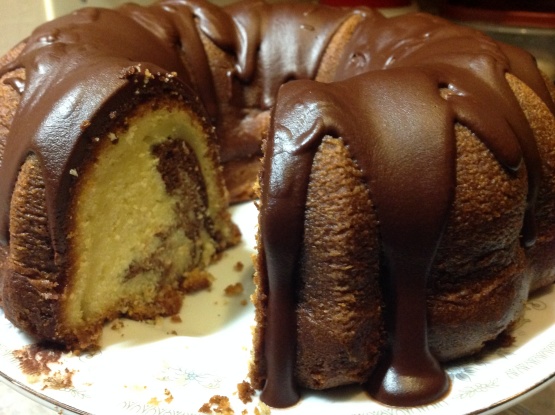 This quick and easy pound cake starts with a yellow cake mix and then adds some key ingredients to make it very rich tasting.

This was a very easy cake to make. I used a bundt pan and not a tube pan as suggested and it took a few minutes longer to cook. I followed the recipe exactly and a nice lemony pound cake was the result. It stayed very moist for a few days too(it did not last long in this house). Thanks for the recipe.
Place a rack in the center of the oven and preheat the oven to 350°.
Lightly grease a 10-inch tube pan with vegetable shortening, then dust it with flour.
Place the butter and oil in a large mixing bowl and beat with an electric mixer on medium-low speed until creamy, 1 minute.
Add the sugar and beat until creamy, 1 to 2 minutes longer.
Add the eggs, one at a time, beating each until the yolks of the eggs have just been incorporated.
Add cake mix, 1 cup of flour, sour cream, evaporated milk, and vanilla.
Increase the mixer speed to medium and beat until the batter is thick and well blended, 1 1/2 to 2 minutes longer, scraping down the side of the bowl if necessary.
Pour the batter into the prepared tube pan, and bake the cake until it is golden brown and springs back when lightly pressed with a finger, 60 to 65 minutes.
Remove the tube pan from the oven and place it on a wire rack to cool for 20 minutes.
Run a dinner knife around the edge of the cake, shake it gently to loosen it, and invert onto a rack, then invert it again onto another rack so that the cake is right side up.
Allow the cake to cool completely, 20 minutes longer.