Owee D.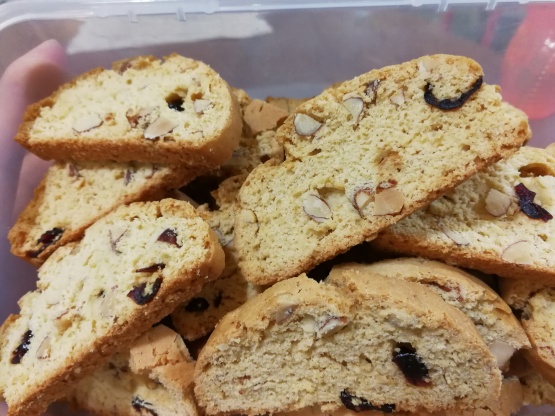 I don't know where my mother got this recipe but it produces the best biscotti I have ever had- and I am Italian so I have eaten A LOT of biscotti. Also, I will be publishing the chocolate version of this recipe which is also to die for. I've also made these with 1/4 cup dark chocolate chips and 2/4 cups hazelnuts in place of the almonds. For a sweeter variety, I have also mixed 1/2 cup almonds with 1/4 cup butterscotch chips. I have also made them plain without nuts when I've been low on ingredients. You can't mess up this recipe- it's fool-proof!.
Made these last year...relish. Husband requested them again. Dough is a little mealy until you knead it together. Easy to make and great for dunking. The possibilities with this dough are endless...dried cherries soaked in a little almond extract and white cho. Chips come to mind.
Adjust rack to center position and heat the oven to 350 degree. Line a cookie sheet with wax or parchment paper.
Place the flour, sugar, baking powder, salt and nuts in a large bowl and stir to combine. In a small bowl combine the eggs, butter and vanilla and whisk to fully combine.
Make a well in the center of the dry ingredients and pour in the egg mixture. Using a rubber spatula, mix to combine until a rough dough forms.
Dump the dough onto a work surface and knead a couple of times until the dough comes together, adding extra flour sparingly and only if necessary. Start to form the dough into a big, fat cigar and cut it in half. Form each half into a cigar about 1 inch thick, 2 inches wide and about 12 inches long. Place them onto the cookie sheet and lightly press with fingers to slightly flat cigars.
Bake for 25 minutes reversing the pan halfway through. The bars will be firm to the touch and just slightly browned. Remove from the oven and lower the temperature to 300 degrees. Let the cookies cool on the cookie sheet for 15 minutes.
Remove cookies to a cutting board using two spatulas. Using a serrated knife, slice the bars on an angle about 1/2 inch tick to form the biscotti. Lay them back on the cookie sheet with either cut side down and place back in oven for 15 minutes. Turn each cookie to expose the other cut side and place in oven for another 15 minutes. Let cool on a rack to room temperature. Place cookies in an airtight container.