'the Belle of the Ball' Chili Con Carne
ms.susan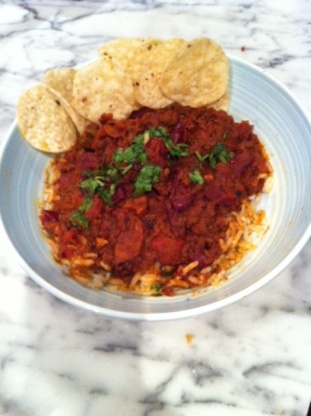 This Chili recipe will have your mouth dancing! The spices blended so harmoniously resulting in a perfect level of heat! Top it off with some cheddar cheese or sour cream, green onions or avocado and corn chips and you will be the belle of the ball!
In a heavy pot sautee onions, coconut oil, ground beef and garlic.
Add oregano, chili powder, cumin, cayenne, and chipolte chili powder. Sautee for 2 minutes.
Add tomatoes, tomato paste, kidney beans, water, salt and pepper.
Simmer for 2-3 hours until flavours blend.
(Add more water as needed as the chili simmers).
Serve with rice.
Sharp cheddar, corn chops and fresh chopped corriander may be served on the side.