The Amazing Swedish Meatball
ImPat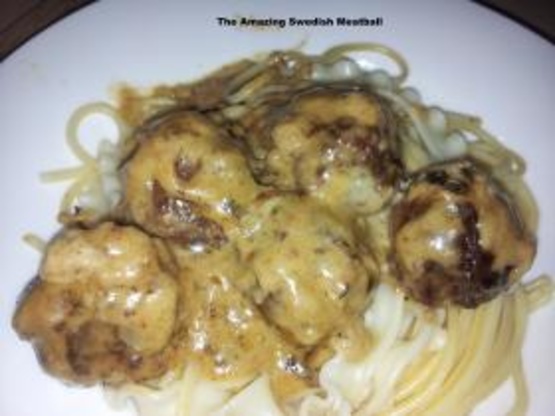 Yowza! These Swedish Meatballs are fabulous! Very easy to make with such simple ingredients, and they're just delicious. This recipe has been in my family for years - friends and family wait all year to eat them.

Wonderful meat balls. These were enjoyed by all tonight. I used 2 lbs of meat as I had guests for dinner and wanted to be sure to have enough. Now there'll be a bit left over for dh's dinner tomorrow night. Made for ZWT9 Soup A Stars.
Preheat oven to 350ºF (175ºC). Lightly grease a 9- x 13-inch baking dish.
In a large bowl, combine ground beef, ground pork, chopped onion, bread crumbs, egg, and milk. Season with parsley, Worcestershire sauce, 2 teaspoons salt, and 1 teaspoon pepper. Mix well with your hands. Shape into walnut-size balls, and place on baking dish.
Bake for 30 minutes in preheated oven. Turn frequently so they brown evenly on all sides.
TO MAKE THE SAUCE:.
In a saucepan, combine oil, flour, paprika, 1 tablespoon salt, and 1 teaspoon pepper. Cook over medium heat until sizzling. Stir in hot water and sour cream until smooth and heated through.
When meatballs have cooked 30 minutes, pour sauce over the top, and return to the oven for 20 minutes, stirring occasionally.
FOOTNOTES:.
These meatballs are great alone, but are also delicious poured over egg noodles.