2Bleu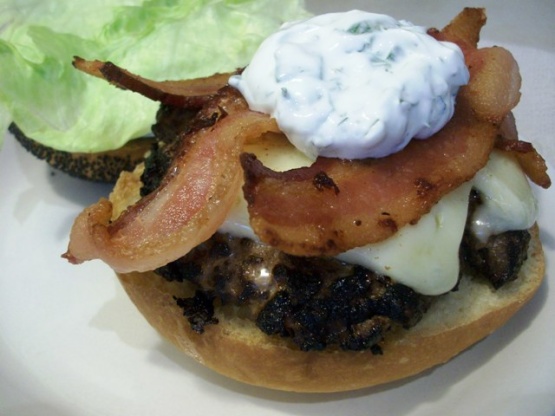 Well, this is my second attempt to review this, apparently the other one did not go thru. This is a great burger, we LOVED the sour cream sauce, the horseradish is perfect!! I did not have any dill, I used some Montreal Seasoning. Also, used Iceberg lettuce, slices of red onions and fresh tomatoes from the garden when building the burger. O, also used a yellow xtra sharp cheddar instead of the white. Thanks for posting.
In a large skillet, cook the bacon over medium-high heat until crisp. Drain on paper towels. Discard all but 1 tablespoon bacon fat.
In a medium bowl, combine the sirloin, Worcestershire sauce and horseradish; season with salt and pepper. Form into 4 patties. Heat the bacon fat in the skillet over medium-high heat. Add the beef patties and cook, turning once, for 8 minutes for medium. Melt the cheese on top of the patties during the last 2 minutes of cooking.
Meanwhile, in a medium bowl, combine the sour cream, parsley, chives, dill and lots of pepper.
Place the cheeseburgers on the roll bottoms and top each with 2 slices bacon and some watercress. Slather the bun tops with the sour cream sauce and set into place.