Thanksgiving Pumpkin Crunch Cake Dessert
awalde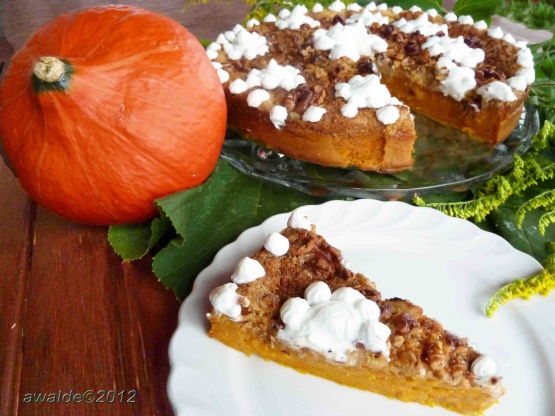 My family will give up a pumpkin pie for this! ---- two teaspoons of pumpkin pie spice may be used in place of the cinnamon, nutmeg and allspice --- I have made this using both the white and yellow cake mix I have to say that the yellow is better to use.

I made this with my girl scout troop to enter a pumpkin pie contest. It was very "pumpkinny" and had a different spin on pumpkin pie. Very similar to "dump cakes" where you use pie fillings and top with cake mix, butter, and nuts. As for the pie contest, the girls won 1st prize. Thanks for the recipe.
Set oven 350 degrees F.
Grease a 13 x 9-inch baking pan.
In a bowl combine the pumpkin puree, evaporated milk, eggs, sugar, cinnamon, nutmeg, allspice and salt; mix until well combined.
Pour into prepared baking pan.
Sprinkle the cake mix evenly over the top of the pumpkin mixture.
Sprinkle the chopped nuts over the cake mix.
Drizzle the melted butter or margarine evenly over the top.
Bake for about 55-60 minutes (do not bake more than 80 minutes).
Cool completely, then pipe the whipped cream over the top of the cooled cake.