Thanksgiving Leftover Extraordinaire!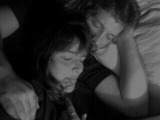 AKA: "The Pilgrim Hoagie" Adjust amounts to your liking and enjoy. :)
1 hoagie roll
2 tablespoons cranberry sauce
6 ounces cooked turkey, leftovers warmed and sliced
1⁄4 cup prepared stuffing, leftovers warmed
3 tablespoons turkey gravy, warmed
Directions
Spread cranberry sauce on bottom of hoagie roll.
Place turkey over that, then stuffing, then gravy.
Eat with plenty of napkins!
Most Helpful
GREAT sandwich. The only exceptiom is I made it as posted and heated it in the microwave at work today. Keeping this one for leftover turkey in the future. Made for PRMR tag.

This is a great little sandwich and a great way to use up leftovers. The only change I made was to use homemade rolls and a little bit of mustard on one and a bit of orange marmalade on another.

I do this anyway with my leftovers. Only thing I do differently is, since we also have ham, I add that and some of the green beans to the mix. It's so good!