Thanksgiving Cranberry, Rhubarb, Cherry, Chestnut Chutney
Rita1652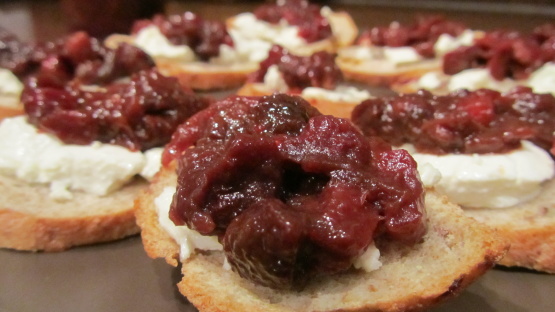 This Tangy Thanksgiving Chutney is a mixture of Rhubarb, red onions, apples, chestnuts, cranberries, dried cherries with brown sugar, balsamic and spices. Use as a condiment with meat or poultry. Spread inside a left over turkey sandwich. Served over warmed crumbled goat cheese or creamy brie on top of toasted bread, it makes an elegant holiday hors d'oeuvre for the holidays.
In a large stainless steel pot add all the ingredients.
Bring to a boil for 5 minutes stirring often then reduce heat to simmer.
Let the chutney simmer – uncovered – for 1½-2 hours.
Stirring frequently while cooking.
Jar and chill or process in a water bath for longer shelf life.