Thanksgiving Cranberry Peach Cobbler
Annacia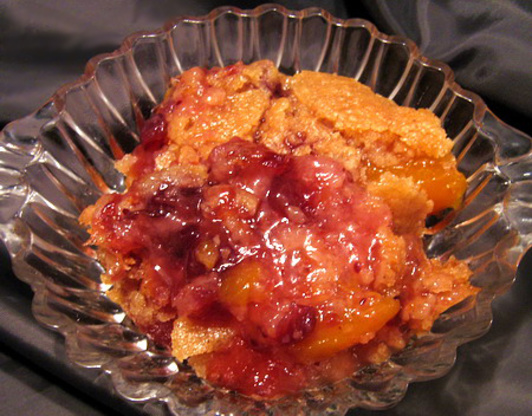 I received this recipe from a friend. I love easy Cobbler recipes like this.

We really like this cobbler (especially my husband). I had a 20oz can of peach pie filling so I used it all with the usual amount of cranberry. It turned out wonderful. It didn't get 5 stars from me because it is so fattening.
Preheat oven to 350 degrees.
Combine cake mix, cinnamon, nutmeg in a bowl.
Cut in butter with a pastry blender until crumbly.
Stir in nuts and set aside.
Combine peach pie filling and cranberry sauce in an ungreased 13 x 9 inch pan. Sprinkle crumb mixture over fruit.
Bake for 45 to 50 minutes or until golden brown.
Serve with ice cream.