lazyme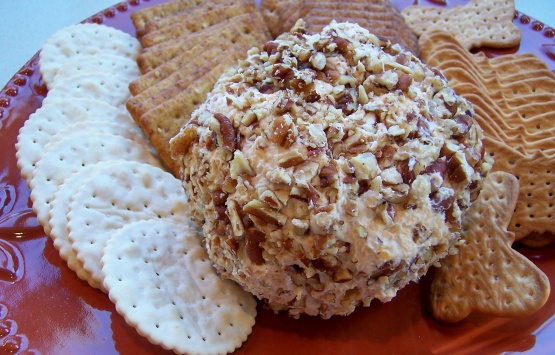 This is so very good that one bite leads to 4 and 4 to 8. Dead easy too a few mins with the processor and 4 hrs of chill time, thats it!

This cheese ball is AWESOME!!! Made it last Thanksgiving and forgot to rate it. Came back to my saved recipes to make it again this year because it was such a big hit. It was completely GONE and everyone kept asking, "What's in this?" I do agree that it should be chilled BEFORE rolling it into the ball, otherwise it is very smooshy. I'll be taking this to Thanksgiving tomorrow and 2 other Christmas parties. Give it a try, it's DELICIOUS!!!
In a food processor, mix the cream cheese, Cheddar cheese, blue cheese, onion, garlic, and Worcestershire sauce. Process until well blended. Add olives, and pulse into small chunks.
Shape the mixture into a ball, and roll in the chopped pecans to coat. Wrap in plastic, and chill at least 4 hours in the refrigerator.