Thank You Guys Crab Cakes
Rita1652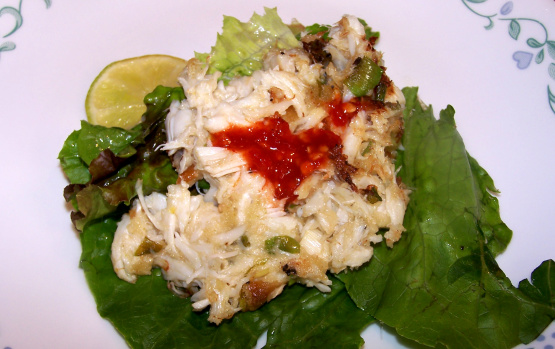 Read all your wonderful crab cake recipes and they inspired me to make this - I liked it and my DH loved it, a Scottish take on an American favourite.

I am giving this a 5 star based on the previous reviewers addition in using approximately 12 ounces for fresh crab meat, whether claw meat, lump, jumbo lump, I prefer to use Maryland Blue Crab, but I am lucky as I live in Maryland. I loved the use of lime zest, scallions, white bread, mayonnaise (Dukes) and the green curry paste. This was delicious, and a egg would be a good addition as well to keep the patties together. I let mine sit on waxed paper for approximately 3 hours. I sauteed' in some canola oil (1 tablespoon) with 1/2 tablespoon of butter added. Put on a saltine cracker and a nice coleslaw salad. Yummy! Great, great and I thank you lindseylcw! Made for *Everyday is a Holiday* February 2009.
Mix all ingredients gently together and form into cakes of required size,.
chill well for at least 1 hour (if in hurry put in freezer for 10 mins).
Shallow fry in vegetable or corn oil until golden - don't worry if too soft to turn just baste with hot oil.
Serve on bed of rocket leaves (dressed in lemon olive oil if liked but I think bitter salad leaves are important to offset richness) with small bowl of Thai sweet chile sauce - bon apetit.