Thai Vegetable Noodle Soup My Way
IngridH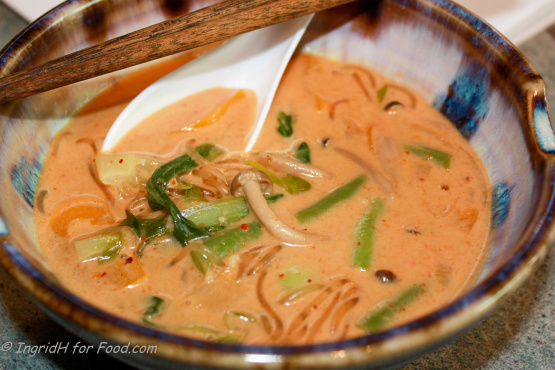 I love thai food. Especially the soups and curries. So I have decided to share some of my favorites with all of you. This is a very tasty and filling soup. I have changed ingredients to suit my family's taste and hope hope you will enjoy this simple treat.

I made some significant changes to this, but loved the final result. First, I used chicken broth instead of vegetable. I just love it, and always have it on hand, so it was a natural sub for me. Next, I didn't have carrot or zucchini, so I used enoki mushrooms and baby bok choy, which needed to be used. I think this really shows how versatile this recipe is- you really can use whatever you have in the pantry and fridge. I did need to adjust the seasoning- adding a teaspoon each of lime juice and fish sauce. As written, this has a nice, mildly spicy flavor; tonight I wanted a bit more heat so I added another teaspoon (for half a recipe) of curry paste. Overall, this is great, and I'll definitely make it again. Made for 1,2,3 hits tag.
2

tablespoons oil, peanut

1

onion, sweet, thinly sliced

2

garlic cloves, finely chopped

1

carrot, large, sweet, cut into thin sticks

1

zucchini, cut into thin strips
1⁄2 cup green beans, cut in thirds
1⁄2 cup pepper, sweet red, cut into thin sticks

4

cups stock, vegetable
1 3⁄4 cups milk, coconut

3

tablespoons soya sauce, thai

3

tablespoons curry paste, red
1⁄4 cup rice noodles, wide
1⁄2 cup bean sprouts

4

tablespoons cilantro, fresh, chopped
Heat the oil in a work and stir fry the onion and garlic for 3 - 5 minutes.
Add the carrot, zucchini, green beans and sweet pepper and fry for 3 minutes until tender.
Add the stock and milk and bring to a boil.
Next add the soya sauce, curry paste and noodles and simmer for 5 minutes, until your noodles have swelled.
Add the bean sprouts and cilantro and serve right away.