Thai Tuna and Pearl Onion Shish Kebabs
Rita1652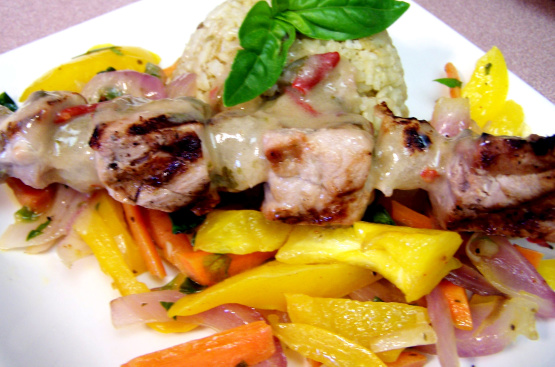 Rita, we loved these kabobs! They were easy to prepare and extremely flavorful! I made no modifications to your ingredients: I used 2 thai dragon peppers that I crushed with a mortar and pestle. I, too, used minced lemongrass from a jar. I used fish sauce, and cilantro instead of basil, as that is what I had on hand. The citrus-y tang of the lime really comes through in the heated marinade served over the kabobs. The only thing I did not do is soak the skewers, as we never do. We served the tuna over basmati rice. Thanks for this keeper!
Mix all marinade ingredients except for the oil in a large ziplock bag. Add tuna cubes and pearl onions. Marinade for 60 minutes turning a couple times.
Thread 5 tuna cube and 5 onions alternating on each soaked skewer.
Pour the remaining marinade into a small pot and bring to a boil then simmer for 5 minutes.
Brush olive oil over skewered tuna and onions.
Preheat grill to medium and lightly wipe with an oiled rag.
Grill for 5-7 minutes until golden, turning frequently.
Serve over a bed of rice topped with the heated marinade.