K9 Owned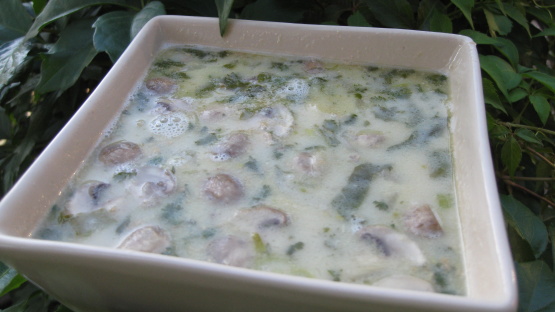 This is a bit different from the others sounds good and this has always been one of our favorite soups in Thailand. Fragrant, spicy and absolutely delicious Thai chicken soup. I've eaten a bit of Thai, and I think this comes very close. Add noodles if you like with the fresh coriander Posted for ZWT 2010 - Thanks Tea Jenny for the help while I can't get on the internet.

Just as a clarification for those among us that are sticklers for details, this is not a recipe for Tom Yum, it is a recipe for Tom Kha Kai. Tom Yum has a chili paste base which gives it it's distinct red color, where as Tom Kha Kai has a coconut milk and chicken broth base. In this particular recipe water is used instead of chicken broth, but the chicken itself and the fish sauce impart enough flavor to compensate. I am looking forward to trying this version of my absolute favorite Thai dish.
In a large saucepan over medium heat, heat peanut oil. Stir in garlic, ginger, lemongrass, red chilli, coriander and cumin and cook until fragrant, 2 minutes.
Stir in chicken and onion and cook, stirring, until chicken is white and onion is translucent, 5 minutes. Stir in pak choi and cook until it begins to wilt, 5 to 10 minutes.
Stir in water, coconut milk, fish sauce and coriander. Simmer until chicken is thoroughly cooked and flavors are well blended, 30 minutes.