ATM 67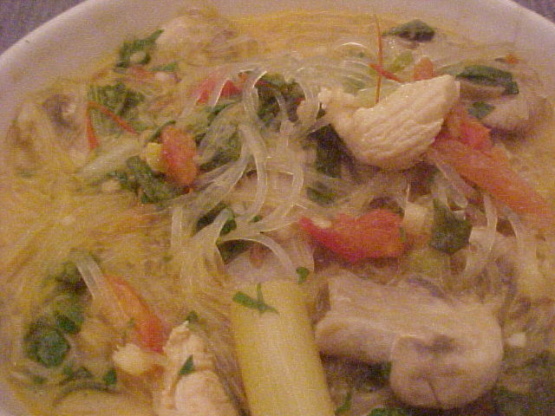 If you like soups as a main dish, this is a great one... hearty and filling. For a more traditional Tom Kha Gai, leave out the bok choy, tomatoes, and bean thread noodles, and add some extra mushrooms. But believe me, this soup is incredible as written. I can never find the galagnal traditionally used in Tom Kha Gai, but if you can get it, I say use some.

Spectacularly delicious! Thank you so much for this inspiring recipe. This is one of my all-time favorite foods and this recipe is a very good one that is simple to make, and a great starting point for a bazillion modifications based on preference or convenience. There should be a rare category on this site for extra-special recipes that once tried, you can never be without, and this one would unquestionably be on my list! As a Texas-based gringo, while I love this soup, without a recipe like this, I would not know where to start. This recipe solves that problem and makes me feel like I have a upper hand on many restaurateurs - even though all I really have is this excellent recipe and a little common sense. But maybe that's all I need.<br/> I never write reviews anywhere, but I am doing so here because I feel like I have something very useful to add. First of all, this soup is as easy to make as anything you will ever cook - so relax even if this is unfamiliar to you and try it. The second great and reassuring feature is that, like many soups, you can substitute liberally with fantastic results. The main favors here are very assertive ones: vinegar, lime, hot chili peppers, lemongrass, fish sauce, cilantro. You will have a hard time overpowering these favors. So I like to include healthy ingredients and leftovers before they go bad - always with excellent results. I also frequently make major substitutions, not because they are better, but because it is what I have on hand or because it is easier - and the result is always delicious. Examples: 1) Sambol Olek or any similar chili garlic sauce instead of the serranos and garlic (nice time saver that I think is easier to titrate in terms of the spiciness, & this is from someone who loves to cook with fresh garlic!), 2) galangal if you don't have ginger or just for fun, 3) rice wine vinegar instead of plain old white vinegar (makes me feel like it is a little more authentic, even if it is nothing more than my silly feeling), 4) I like to add more interesting mushrooms than just white ones (usually a variety of what I can find fresh), 5) I also like to add little cubes of tofu (semi-firm) even though I only buy it when planning an Asian dish that includes it (nice nutritional element and one more texture with very little discernible flavor in this boldly flavored soup), 6) the chicken or any other meat is optional, 7) shrimp paste is optional and I got some small dried shrimp in the refrigerated section of an Asian grocery and I grind it in a mortar & pestle, though again I do so to feel like a better cook than I actually am, and this is probably not really needed, 8) coconut milk can be low-fat, regular, or cracked right out of a coconut, 9) soy sauce doesn't have to be low-sodium though that's certainly better for you, 10) chicken broth can be anything you find including bullion cubes or powder of the appropriate volume, and finally, 11) bean threads are optional or you can use another type of Asian noodle like ribbons of rice noodles. So, basically you can see that my philosophy is to have fun with it using the basic proportions of the major ingredients and using what I have on hand to enrich it like you would probably do with most soups. There are a few things I would not omit. I would seriously recommend zesting and juicing the limes - the effort is well worth it! I would also strongly suggest using cilantro without substitution. If someone in your group really dislikes it, I would separate out their portion before adding cilantro to the rest. Hopefully someone out there finds this helpful. If you try this, I think you are in for a special treat. I look forward to your feedback once you actually try this wonderful gift of a recipe.
3

(1148.15 g) can low-sodium low-fat chicken broth

382.71

g can coconut milk (regular, not lite)

2

stalk lemongrass, sliced in large pieces

29.58

ml fish sauce

14.79

ml shrimp paste (use anchovy paste as a substitute)

14.79

ml low sodium soy sauce

14.79

ml white vinegar

3

serrano chili peppers, chopped

29.58

ml ginger, julienned in fine,short 1/4 inch strips

4

clove garlic, thinly sliced

29.58

ml brown sugar

2

boneless skinless chicken breasts, cubed in very small pieces

226.79

g white mushrooms, sliced

1

bunch bok choy, chopped

2

tomatoes, diced

170.09

g bean thread noodles, presoaked in hot water

236.59

ml fresh cilantro, chopped (leave the stems in!)

14.79-29.58

ml lime juice, to taste (probably)
In 4qt or larger, heavy-bottomed pot, begin heating chicken broth and coconut milk on low-medium heat.
Add the other ingredients for the broth, down through the brown sugar, as you prepare them.
Bring broth to a slow simmer; never allow it to reach a rolling boil, and do not cover it at any time during cooking.
When broth is simmering, begin adding remaining ingredients starting with the chicken, as you prepare them in the order listed, stirring regularly.
Make sure the chicken is fully cooked by the time you add the cilantro--if you cube the chicken finely enough and use a normal length of time preparing the vegetables, this should not be an issue, but allow it to simmer a few extra minutes if necessary before adding the cilantro.
About a minute after adding the cilantro, taste the soup and add some additional lime juice as desired to punch up the flavor (maybe 1-2 T--don't overdo it!).
Serve immediately.