gailanng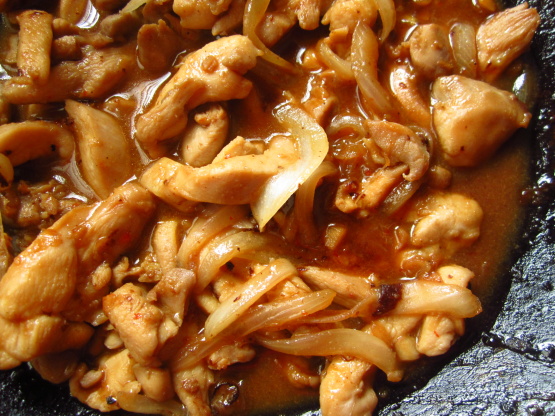 I made this recipe for my family and they loved it. It's something that requires very little prep time and is very forgiving to make. You can adjust the spiciness with the red pepper flakes. Pairs perfectly with jasmine rice and a stir fry vegetable dish or spicy soup.

This is easy to make and delicious, even my mother, who hates spicy food, raved about this recipe.
Fry the 1/2 of the onions, 1/2 of the ginger, and all the garlic in a very hot pan/pot with vegetable oil. (Add ingredients to the pan in the above mentioned order so that you don't burn the garlic).
After browning the edges of the onions (about 2-3 mins), add chicken. Fry for five more minutes.
Add sweet chili sauce, fish sauce, red pepper flakes. (You can add salt/pepper here too if you are familiar with this dish, otherwise wait so that you don't oversalt.).
Reduce heat to med-low and allow the chicken to simmer without the lid for about 20 minutes, stirring occasionally. The liquid should reduce by at least half.
Salt/pepper to taste. (The chicken should be fully cooked at this point, so you can taste the sauce.).
Add the rest of the onions and ginger, then cook for 3-5 more minutes.
Enjoy with jasmine rice.