Derf2440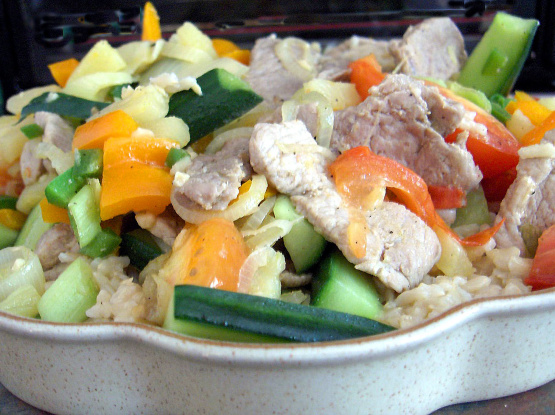 This is very different from the usual Chinese dish. There is not too much sugar and no vinegar, having said that it is still a very good, colourful and simple to cook dish.

Very good sweet and sour considering there is no vinegar. We enjoyed it and I will make it again. Perhaps with more fish sauce. I used a yellow sweet pepper and a small jalepeno pepper. Loved the fact that I could eat a pork dish with so little fat and low carb too. and on top of that lots of flavour! thanks for posting.
Heat the oil in a wok and fry the garlic till just golden, add the pork and fry 4 minutes
Add the onion.
Add the fish sauce, sugar, black pepper, cook for 3 minutes.
Add the red pepper, cucumber, tomato, pineapple and spring onions.
IF the mixture is dry add a couple of tablespoons of water.
Stir fry for 4 minutes.
Garnish with coriander leaves and shredded spring onions.
Serve with fried rice or noodles.