Thai-Style Skewered Chicken
gailanng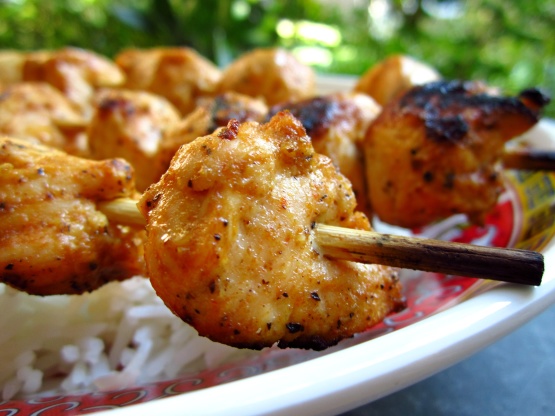 A fragrant Thai style grilled chicken that can be served with Jasmine rice.

This was yummy...although both hubby and I thought that the cumin was very dominate in the dish...if you are not a huge fan cut back on this spice...this was very easy to prepare...I served it with a stir fried bok choy and saffron rice...made for "For Your Consideration" tag game...=)
Mix the marinade ingredients together in a large bowl. Cut the chicken into 1-inch cubes and add to the marinade. Turn to coat evenly, cover, and refrigerate for 2-3 hours or overnight.
Thread the marinated chicken onto the skewers and reserve the remaining marinade for basting. Cook the chicken on a prepared, medium-hot grill for about 7 minutes on each side, basting with the reserved marinade while cooking. Serve with lime wedges and jasmine rice.