Redsie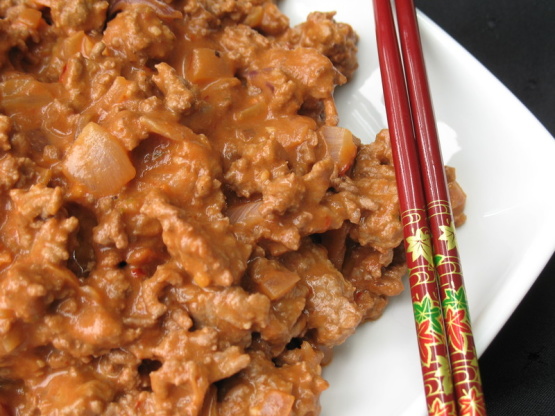 A wonderful recipe from Cooking Light. A delicious way to use ground beef. You can make it spicier by using more red curry paste.

This wasn't quite as quick a lunch as I had hoped for but it was a totally different use of ground beef than just the usual. Fairly well flavored but needed more heat so I added about 1/2 t of sriracha. Served it to DH over rice noodles and myself over pasta. Rice noodles were clearly the better choice. Sprinkled with cilantro, it was a very decent dish!
Heat a large skillet over medium-high heat. Coat pan with cooking spray.
Add leek; sauté 5 minutes.
Add garlic; sauté 1 minute.
Add beef; cook 7 minutes or until lightly browned, stirring to crumble.
Stir in curry paste and tomato sauce; cook until half of liquid evaporates (about 2 minutes).
Add milk and next 4 ingredients (through fish sauce); cook 2 minutes or until slightly thickened.
Serve with the rice.