Thai-Style Grilled Chicken W/ Spicy Sweet and Sour Dipping Sauce
gailanng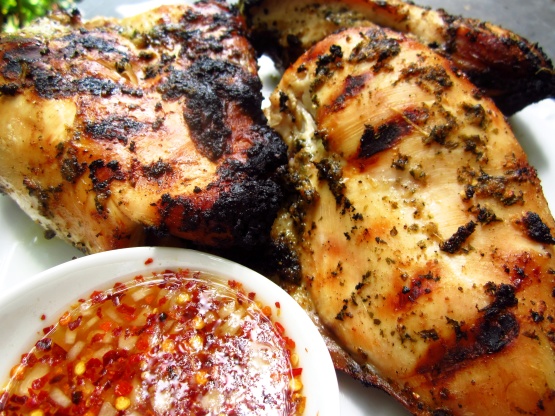 This is from America's Test Kitchen and it's really good. I have also made it as a marinade for wings (just soaking them).

Really good! Such a nice change from plain old grilled chicken. I used boneless skinless thighs and the results were very good. I made the dipping sauce 1 day ahead for the flavors to really meld. Also marinaded in the rub for 4 hours, but only added the lime juice in the last 30 minutes. The chicken was cooked over natural wood charcoal. YUM!!
BRINE

1⁄2 cup granulated sugar
1⁄2 cup table salt

4

(12 ounce) chicken breasts, split bone-in, skin-on, about 12 ounces each (see note)

DIPPING SAUCE

1

teaspoon red pepper flakes

3

small garlic cloves, minced (1 1/2 teaspoons)
1⁄4 cup distilled white vinegar
1⁄4 cup lime juice, from 2 to 3 limes

2

tablespoons fish sauce
1⁄3 cup granulated sugar

RUB

12

medium garlic cloves, minced (1/4 cup)

2

inches fresh ginger (about 2 inches)

2

tablespoons ground black pepper

2

tablespoons ground coriander
2⁄3 cup fresh cilantro leaves, chopped
1⁄4 cup lime juice, from 2 to 3 limes

2

tablespoons vegetable oil, plus more
vegetable oil, for grill grate
To brine the chicken: Dissolve sugar and salt in 2 quarts cold water in large container or bowl; submerge chicken in brine and refrigerate at least 30 minutes but not longer than 1 hour. Rinse chicken under cool running water and pat dry with paper towels.
For the dipping sauce: Whisk ingredients in small bowl until sugar dissolves. Let stand 1 hour at room temperature to allow flavors to meld.
To make and apply the rub: Combine all rub ingredients in small bowl; work mixture with fingers to thoroughly combine. Slide fingers between skin and meat to loosen skin, taking care not to detach skin. Rub about 2 tablespoons mixture under skin. Thoroughly rub even layer of mixture onto all exterior surfaces, including bottom and sides. Repeat with remaining chicken pieces. Place chicken in medium bowl, cover with plastic wrap, and refrigerate while preparing grill.
To grill the chicken: Using chimney starter, ignite about 6 quarts (1 large chimney, or 2 1/2 pounds) charcoal briquettes and burn until covered with thin coating of light gray ash, about 15 minutes. Empty coals into grill; build two-level fire by arranging all coals in even layer in one half of grill. Position grill grate over coals, cover grill, and heat until grate is hot, about 5 minutes (grill should be medium-hot; you can hold your hand 5 inches above grill grate for 4 seconds); scrape grill grate clean with grill brush. Using long-handled grill tongs, dip wad of paper towels in vegetable oil and wipe grill grate. Place chicken, skin-side down, on hotter side of grill; cook until browned, about 3 minutes. Using tongs, flip chicken breasts and cook until browned on second side, about 3 minutes longer. Move chicken skin-side up to cool side of grill and cover with disposable aluminum roasting pan; continue to cook until instant-read thermometer inserted into thickest part of breast (not touching bone) registers 160 degrees, 10 to 15 minutes longer. Transfer chicken to platter; let rest 10 minutes. Serve, passing sauce separately.
Taking Thai Chicken Indoors. If you don't have a grill, heat your oven to 450 degrees and adjust an oven rack to the lower-middle position, as food tends to brown more deeply and evenly toward the bottom of the oven. Set the brined, rubbed chicken on a flat wire roasting rack and place the rack over a baking sheet lined with foil. Roast the chicken for 15 minutes, rotate the pan, and then cook for an additional 15 minutes. The skin should be light golden brown, and an instant-read thermometer inserted into the thickest part of each breast (not touching any bone) should register 160 degrees. To get the same deep brown exterior that the grill provides, finish the chicken with a quick shot under the broiler (2 to 3 minutes, with the chicken 6 to 8 inches from the broiler element). This pass under the broiler will help to crisp the skin, but the skin will probably not be quite as crisp as it is in the grilled version. The flavors, however, will be just as good.